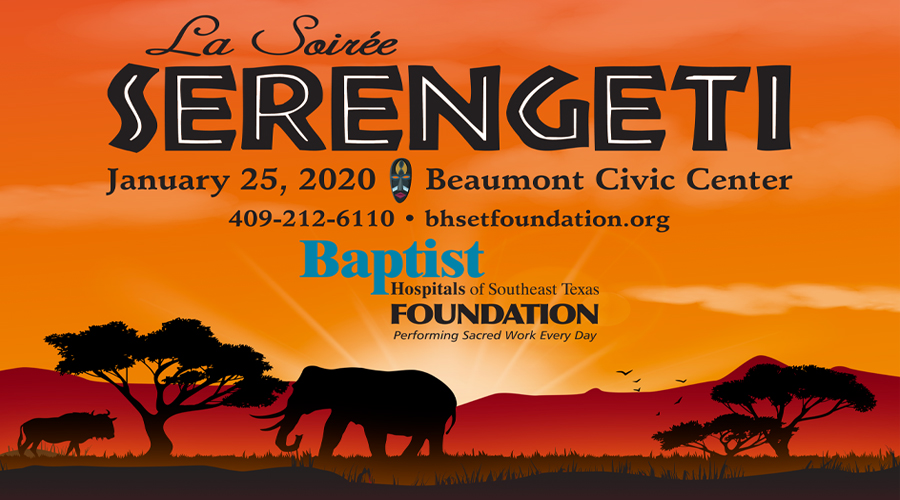 SOLD OUT! THANK YOU FOR YOUR SUPPORT!
Dear Friends and Supporters – Join us on an adventure of a lifetime!
Sponsorship Level Details Register Online Download Mail-In Form
You are invited to witness the great migration across the African plain. You will be immersed in the sights and sounds of the continent on an epic scale. A gourmet meal will be served by Bando's. Entertainment that reflects our theme will be presented throughout the evening with plenty of surprises along the way. All will lead up to a performance by The Party Crashers! This high-energy party band is a favorite that keeps the party going until midnight.
Through the extreme generosity of the board, chairs, committee members, and supporters, the Baptist Hospitals of Southeast Texas Foundation has been able to assist the hospital with projects to serve the people of Southeast Texas. This year the event will benefit the Baptist Hospitals Cancer Program. Past Soireé galas have supported the makeover at the Julie and Ben Rogers Cancer Institute, equipment updates for the Neonatal Intensive Care Unit and currently underway, a makeover of the Dauphin Women's Center. Each project makes a huge difference in the lives of the patients and families served.
In addition, the foundation provides funding to meet patient needs. For kids in our care this includes coloring books, game and movies. For Cancer patients this involves meeting basic needs such as transportation so that they may be able to continue treatment.
All of these projects would not be possible without your support! Through your purchase of a table, tickets or through a donation, you will join with us in the Sacred Work of Baptist Hospitals of Southeast Texas.
In Support of the Sacred Work of Baptist Hospitals,
Hope and Chad Anderson
Event Chairs
Register for This Event
SOLD OUT! THANK YOU FOR YOUR SUPPORT!
Baptist Hospitals of Southeast Texas Foundation is a 501 c 3 as designated by the IRS.
All contributions will be acknowledged for tax purposes.